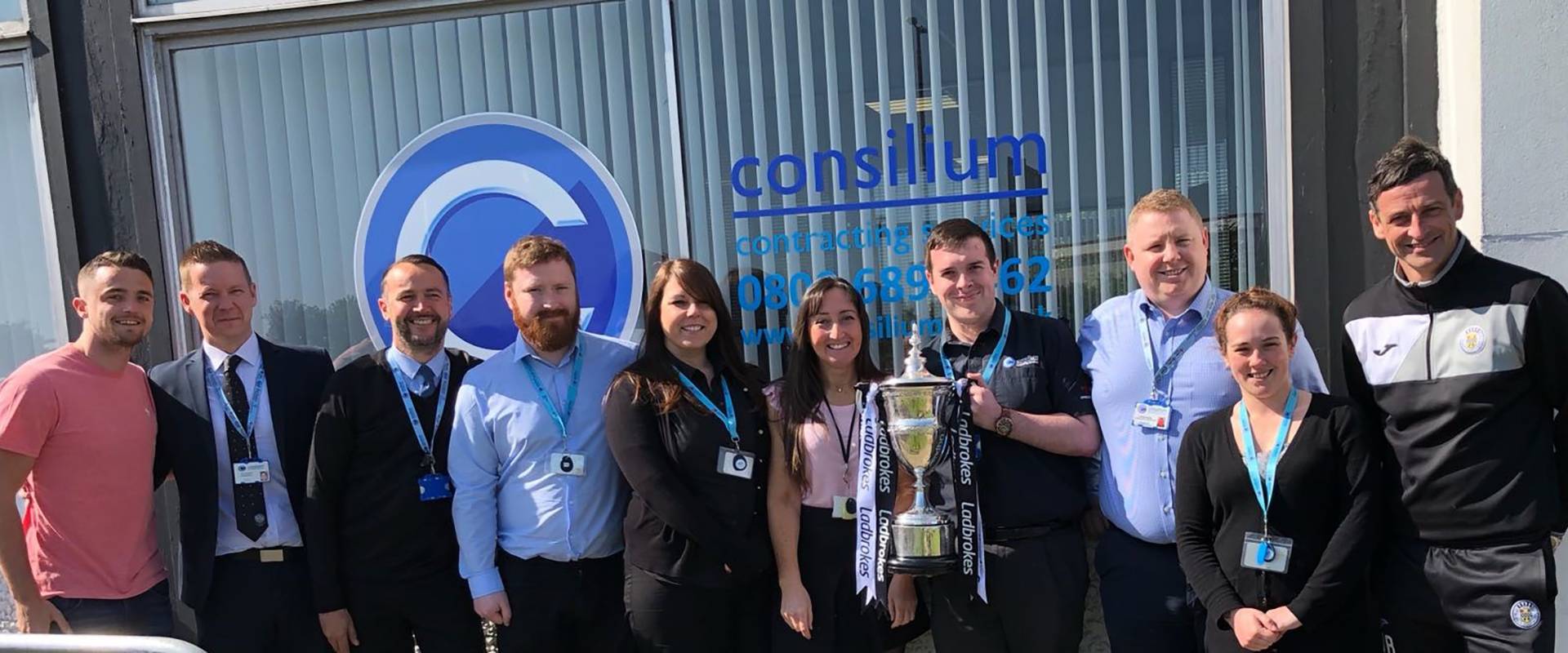 Who We Are
Consilium are a young, vibrant and innovative company born from an experienced Total FM and Multi Trade Construction background. Working in all sectors and environments Consilium deploy a multi trade turn key solution for FM, Maintenance, Service, Fit Out, Reactive, Installations where we look to deliver a service like no other that is bespoke and more importantly tailored to our customers requirements. Consilium are fortunate to have highly skilled and trained field engineers whom are complimented and supported from the hugely experienced office and management team, all working as a single entity – the Consilium family. Consilium harness all the family experience, skills and techniques and deliver onwards to all of our customers. No job is too small, no job is too far.
Trust Us To Deliver
From deploying cutting edge techniques and innovations in what we do Consilium are always looking to provide solutions to our customers challenges. Whether that be financial maximisation, risk, compliance, specification or just seeking the right advice we look to be there for our customers at all times. Trust in Consilium from our customers is absolutely vital, to maintain our Integrity we always look to have an honest, open and transparent approach with our customers and always look to go above and beyond to deliver an unparalleled service.

To ensure continued growth and success, Consilium fully understands that it's essential to retain our fantastic team, our family. Fundamentally, our approach of growth organically will ensure that by looking after our family, they will in turn will look after our customers.

The Consilium family truly believe that quality is not an act, it's a habit.
Meet The Team
Paul McGrath

My experience resides within the Total FM and Construction (Fit Out) Industries gained over a 16-year period that eventually resulted in the birth of Consilium in March 2014.

From budgets, systems and process development, to the management of fit outs and or full account management I was fortunate to gain vast experience, qualifications and skillset primarily due to the growth of the fantastic company I had matured within.

My varying roles took me all over the UK daily visiting regional offices, sites and customers and in doing so I would focus on quality, performance and look to have pride in our delivery whilst always ensuring succinct updates were given to our customers.

I truly believe that without the dedication, involvement and experience of all the Consilium family we would not have realised the growth and success over the years that has resulted in repeat business from our customers.

Dianne McGrath

I started as Office Manager with Consilium when it was founded in 2014.  Over the past few years we have been dedicated to building our workforce & delivering an excellent service.  Now, as Director of Finance I am proud to be part of a valued team who provide support to our customers and each other.   We are constantly developing new ideas through technology and striving to deliver this to the highest standards.  I am confident our team will continue to successfully grow our business in the future.

Kevin Carey

I have worked in the construction Industry since 1988, starting my career as an apprentice welder / steel worker. I then moved into a projects team environment in facilities management.

In this role I gained valuable experience in various disciplines, including Mechanical, Electrical, Sprinklers and Fire & Security in Retail, commercial, industrial and domestic project environment.

I joined Consilium Contracting Services in 2016, having previously worked with the Paul in a very successful facilities management role.