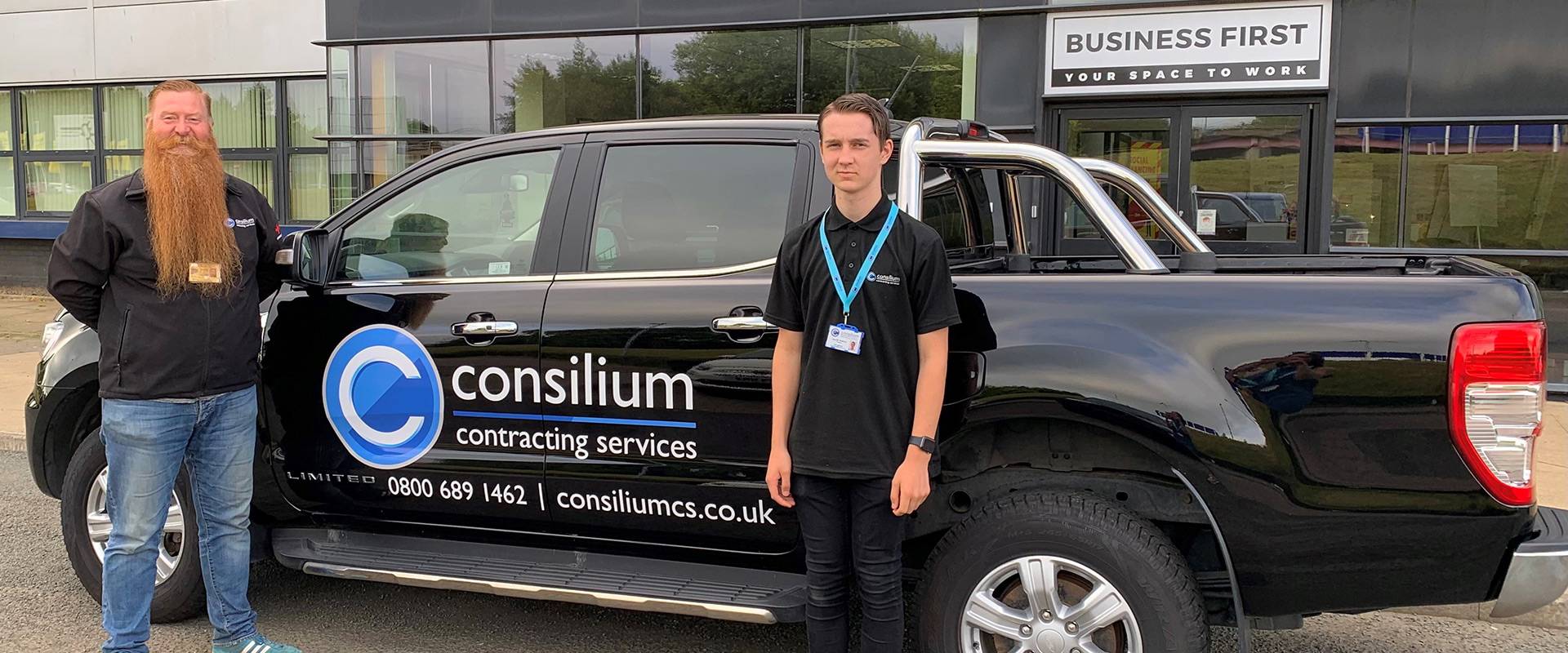 Our Passion and Values
Consilium was born from a deep passion for social housing, and this passion drives everything we do. We are committed to delivering excellence in all our projects, ensuring that we provide the best quality services to our clients. With our roots firmly planted in Paisley, Renfrewshire, we have grown to become a versatile and dedicated team, expanding our reach through regional offices in Dunfermline, Fife, and Duns, Scottish Borders.
Our Mission and Vision
Our mission is to be the preferred choice for social housing contracting services, offering comprehensive solutions that prioritise safety, reliability, and customer satisfaction. Our vision is to be a leading player in the industry, setting the standard for excellence in multi-trade and electrical services.
Our Team
At Consilium, we believe that our people are our greatest asset. Our team consists of skilled professionals who share our commitment to delivering outstanding results. With years of experience and industry qualifications, our experts are equipped to handle various challenges with precision and efficiency.
Paul McGrath

My experience resides within the Total FM and Construction (Fit Out) Industries gained over a 16-year period that eventually resulted in the birth of Consilium in March 2014.

From budgets, systems and process development, to the management of fit outs and or full account management I was fortunate to gain vast experience, qualifications and skillset primarily due to the growth of the fantastic company I had matured within.

My varying roles took me all over the UK daily visiting regional offices, sites and customers and in doing so I would focus on quality, performance and look to have pride in our delivery whilst always ensuring succinct updates were given to our customers.

I truly believe that without the dedication, involvement and experience of all the Consilium family we would not have realised the growth and success over the years that has resulted in repeat business from our customers.

Craig Reid

My experiences over the past 25 years have allowed me to quickly understand customer needs and how best to deliver those objectives across a variety of contract types. From my proud beginning as a qualified electrician, to continuous development into Directorship I have gained a wealth of valuable experience.

Predominantly I come from a building services background where I then developed into an all-trades environment working in education, retail, contracting, manufacturing, and the private sector (housing associations, local government etc).

My time in these sectors has allowed me to build an experience where I can support our customers achieve their project objectives within their businesses.

I'm here to help, make sure the project goes well and hopefully build many friendships along the way.

Scott Lamb

From my humble beginnings as an electrical apprentice, I qualified to full electrician where from that point my desire and ambition allowed me to progress and develop my career very quickly. I am fortunate to have gained 30 years experience in the Electrical Industry, where my ambitions have allowed me to secure senior positions over the years from construction sites to commercial, working through to social housing, where in the main, my experience has been within both public and private sectors.

Within these sectors I have gained invaluable experience where in particular I excelled within electrical compliance, working in social housing has certainly been the most enjoyable and productive in my career.

The self-fulfilment of having an active role providing services to the wider community in the social housing environments truly drives me as an individual and ultimately compliments Consilium own aims and objectives, like Consilium I fully appreciate the environment we work within.

I am immensely proud to have developed my skills within Consilium and have now progressed to Associate Director. The position I hold in Consilium comes with great responsibility, as such I and we will always ensure we meet all of our customers expectations.

Mark McGrath

Starting with Consilium in 2016, just a couple of years after the company was incepted, my initial position was within administration where I managed company processes and supported tendering exercises. With significant growth realised within the company over the years my ambitions were to follow this growth, I am now the company ISO Compliance Manger a role I have fully immersed myself within and have overall control regarding all internal/external processes and compliance within our quality management systems. I have gained a wealth of experience, knowledge, and appreciation within both the public, third and private sectors, allowing me to have a greater understanding of all environments.

My main aim within Consilium is to streamline processes to ensure we have continuous improvement for our customer relations and more importantly complete customer satisfaction.
Our Customers
We work with a huge variety of clients across public and private sectors. Here are just a few examples.